Background:
Organic matter (OM) comprises a small percentage of most soils by volume, however, it plays a crucial role in soil health and ecosystem services because of its interaction with many other soil properties. Soil OM increases the soil's water holding capacity, cation exchange capacity, fertility, microbial abundance and diversity, and soil structure. Soil OM provides essential nutrients and water for plants, sources of energy and nutrients for microbial communities essential in many ecosystem functions such as detoxifying pollutants, and reduces erosion and runoff by improving infiltration. Soil OM is the largest pool of terrestrial carbon, containing 77% more carbon than above-ground vegetation, playing a significant role in climate regulation.1
Most soils range in OM from 1 to 6% depending on chemical, biological, and physical properties of the soil, as well as anthropogenic activities that promote or impede OM accumulation.2 Soil OM accumulation depends on inputs and rates of decomposition of organic inputs, which are in turn a function of moisture, temperature, aeration, microbial community composition and abundance, physical disturbance, and mineralogy. High organic matter inputs help increase soil OM; this can be achieved in areas of high primary productivity, by returning crop residues or cover crops to the soil, or by adding compost and/or manure to the soil. Some soils are naturally low in OM, especially in water limited environments, where biological activity, including primary productivity and microbial activity, are low. In cold environments organic matter accumulation can be limited by temperature. Mineralogy of the soil is also important - minerals in the silt and clay fractions of the soil can bind organic compounds helping to stabilize the carbon and protect it against decomposition. Anthropogenic activities also affect the amount of organic matter in the soil. For example, tillage aerates the soil and increases the availability of stored carbon, increasing microbial activity and therefore rates of decomposition. Furthermore, land use changes, such as forest clearing for cropping or grazing can also significantly reduce carbon pools in the soil. Understanding the role and management of soil OM can greatly enhance plant productivity and yields.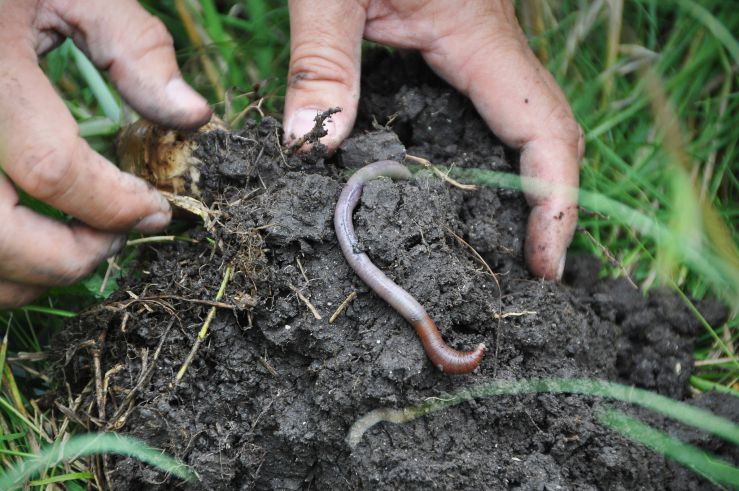 Picture of organic matter aggregate and worm. https://www.flickr.com/photos/usdagov/24878004088
Diagnosing:
Dark-colored surface soils are a good visual indication of organic matter accumulation. In mineral soils, total carbon can be measured in soil laboratories and soil organic matter can be estimated by multiplying the total percent carbon by two.
Management:
Below is a short summary of various management practices. For a full list of additional resources click here.
Inputs for enhanced OM accumulation
Increasing soil OM can be achieved by increasing the amount of OM inputs, and limiting the removal of biomass after harvest. The following are strategies to increase OM inputs.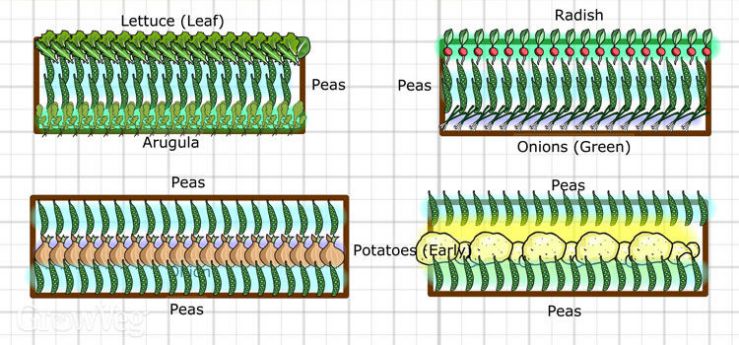 Example of interplanting
https://res.cloudinary.com/growinginteractive/image/upload/q_80/v1445981402/growblog/pea-plan-2x.jpg
Retention and Recycling of OM and Minimizing Loss
The introduction of oxygen into the soil will accelerate the decomposition of OM due to increased microbial activity. Additionally, breaking apart aggregates, which are glued together by OM, will allow for the exposure of previously physically protected OM to be exposed and vulnerable to decomposition by microbes. Furthermore, the topsoil, where microbes are most active, is where most OM is found and thus, loss of topsoil should be mitigated. The following practices help reduce aeration of soil and minimize erosion.
Nutrient Cycling in Soils.
Resources:
Inputs for enhanced OM accumulation
Retention and Recycling of OM and Minimizing Loss
Additional Resources

References:
https://www.sare.org/Learning-Center/Books/Building-Soils-for-Better-Crops-3rd-Edition/Text-Version/Organic-Matter-What-It-Is-and-Why-It-s-So-Important/Why-Soil-Organic-Matter-Is-So-Important
Nelson, D.W. and L.E. Sommers, 1982. Total carbon, organic carbon and organic matter: In: A.L. Page, R.H. Miller and D.R. Keeney) Methods of soil analysis. Part 2 Chemical and Microbiological Properties, pp: 539-579.